BBC CHRISTMAS SCHEDULE
Sunday, December 10
Worship & Preaching – 8:30a & 10:45a
Sunday School – 9:45a
10:45a – Children's Christmas Program
Worship & Preaching – 5:00p
Sunday, December 17
No 8:30a Service
No Sunday School
10:00a – Annual Chrismas Program ONLY
Worship & Preaching – 5:00p
Lord's Supper – Evening Service
Wednesday, December 20
Sunday, December 24
No 8:30a Service
No Sunday School
10:00a – Family-Integrated Service ONLY
No Evening Service
Monday, December 25 to Wednesday, December 27
Wednesday, December 27
Sunday, December 31
No 8:30a Service
No Sunday School
10:00a – Family-Integrated Service ONLY
No Evening Service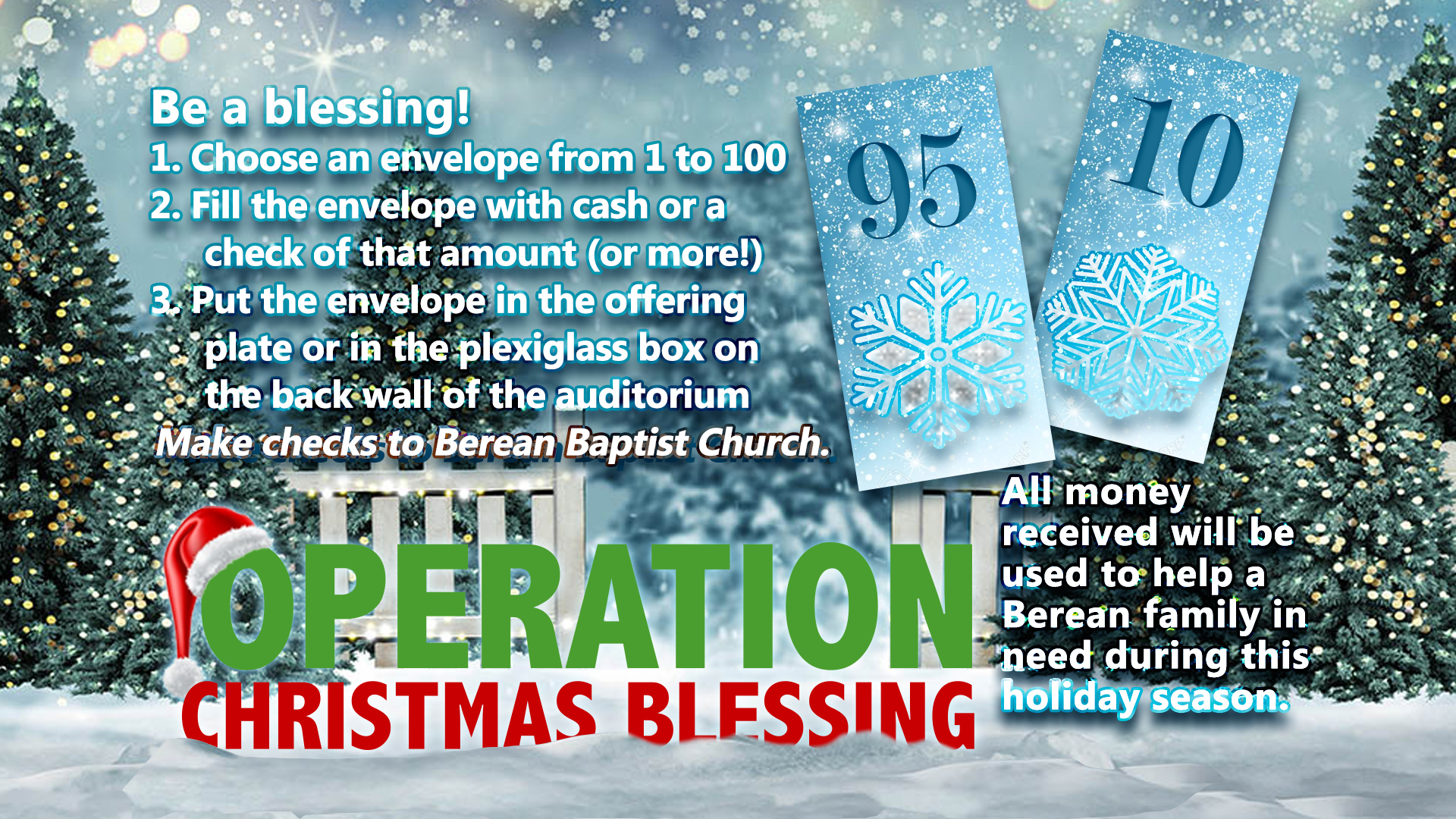 Operation Christmas Blessing
Be a blessing! 
What:
Choose an envelope from 1 to 100
Fill the envelope with cash or a check of that amount (or more!) 
Put the envelope in the offering plate or in the plexiglass box on the back wall of the auditorium 
Where:
In the Narthex wall by the Cafe and the entrance of the Atrium
All money received will be used to help a Berean family in need during this holiday season. 
Children's Christmas Program
What:
Children's Christmas Program (K5-6th grade)
When:
December 10 at 10:45 AM Service
Concert – Handel's Messiah 
What:
Concert – Messiah (Part the First) By George Frideric Handel 
When:
Saturday, December 16 at 7:30 PM 
Who: 
Kick off your holiday season with the annual Fayetteville tradition attracting hundreds! This "Gift to the Community" is a partnership with the Fayetteville Symphony Orchestra. Typically, we invite anyone who has sung this piece to join us from the audience or attend rehearsal and stand with the choir! The performance is what is typically known as the "Christmas portion" of the work, ending with the famous "Hallelujah Chorus!" No ticket is necessary for the concert.
No Evening Service 
What:
No AWANA 
No Wednesday Bible Studies 
When:
AWANA – 6:15pm-7:45pm
What:
Registration for the 2023-2024 AWANA year is now open!
Who:
AWANA is open to clubbers 2-years-old to 6th grade.
Register:
Click

HERE

to register your clubbers.
POC:
Paul Odom –

awana@bbcfnc.org
August 30 – December 13, 2023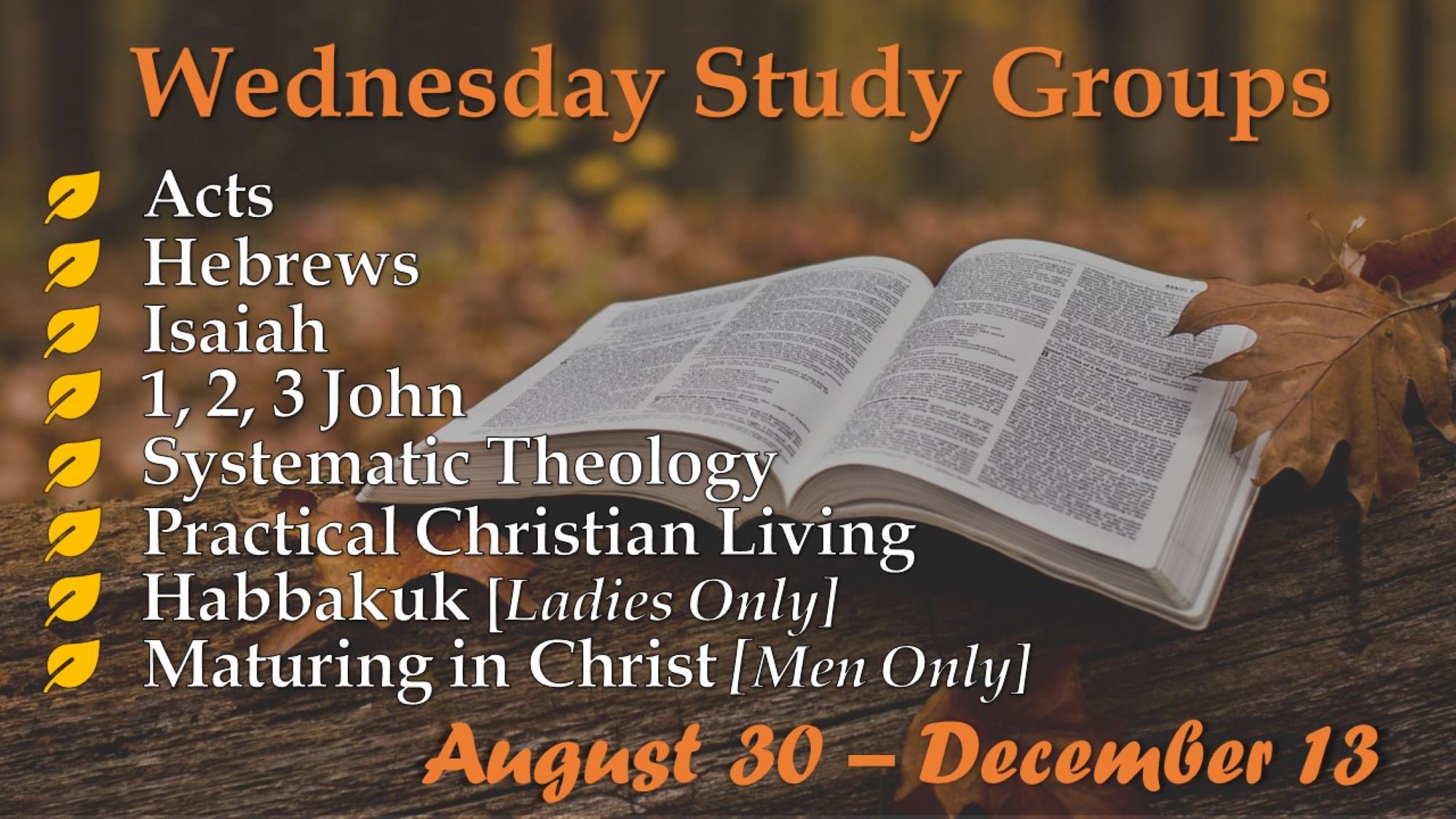 2023 Fall Wednesday Study Groups
WHAT:
Our Wednesday night study groups kick off on August 30th. This semester, we are adding five new studies.
All studies are open to new participants.
POC: Mike Boarts – mike.boarts@bbcfnc.org
Look back frequently for more coming events!