Berean  Missionary Baptist  Church, Unaffiliated, was officially started on February 7, 1967, from  Grace Baptist Church in reaction to the liberal theological influence in the Southern Baptist Convention. Weldon Butts served as Berean's first pastor and held the first Sunday service on February 12 in the home of George and La Rue Lancaster. They met in the Lancaster's home until a building was acquired on 1337 Bragg Boulevard. The first constitution was approved and adopted on May 5, 1967, with 22 adult signatories.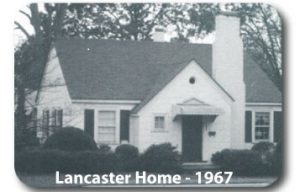 ---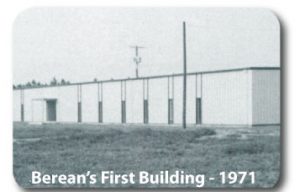 In the Fall of 1967, Al Bean became pastor of Berean. He served from 1967 until 1972. Under his direction, the church was able to purchase property on Glensford Drive and build their first building in 1972. Presently, that building is still in use for adult Sunday School classes. On December 27, 1971, the word 'Missionary' was dropped from the church's official name; however, the church was still described as Fundamental, Unaffiliated and Missionary in its updated church Constitution.
---
In June of 1972, Steven Byrd was called as Berean's third pastor. Pastor Byrd served for 33 years and led the church in both numerical growth as well as the completion of six additional building projects. Steven Byrd led the church to use buses to reach 1000s of boys and girls with the gospel and the Word of God. Including the children who were bused to church, Sunday school attendance reached 1225 on July 4, 1976.In 1974, Berean saw the completion of a beautiful 700-seat auditorium.  Evangelist John R. RIce was the guest speaker on the rainy dedication day.
---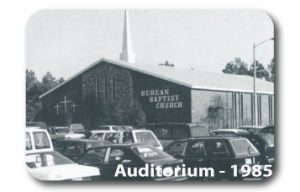 In 1975, Berean Baptist Academy was founded, as a ministry of the church, with a vision to teach and train Christian girls and boys to become responsible, godly young ladies and gentlemen that will impact our world for the cause of Jesus Christ. BBA began with thirty-eight students in very limited facilities.  In 1980, a third educational building was added to the campus.
---
In 1986, the 20,000 square foot, Family Life Center, and the future home of the Academy, was built. The gymnasium was completed first and was immediately used by the Academy's sports teams. In 1988, the Junior and Senior High School students moved into the classrooms on the north side of the building. In 1996, the south side of the Family Life Center was completed and all grades moved under one roof.
---
On August 25,1996, Berean dedicated a new 20,000 square foot auditorium.
---
In February of 2006, Pastor Sean Harris was called as Berean's fourth pastor, and on June 10, 2006 Steven Byrd retired. Pastor Sean continues to cast the vision for Berean and has completed a renovation of Berean's old auditorium into a beautiful chapel and a separate bookstore/coffee shop. In 2007, Berean opened a newly renovated  preschool building. The preschool accommodates seventy-five K3 and K4 students with its own secure playground area.
The Academy has over fifty full and part time employees who minister to over 400 students in grades K3 through 12th. God has blessed us with a wonderful main school building that houses two computer labs, a science lab, a Home Economics lab, an elementary media lab, and a beautiful 10,000 square foot gymnasium that was remodeled in 2000. Academy students also utilize a large elementary playground, a soccer & baseball field, and a music/drama modular building.
Berean Baptist supports about thirty missionary and evangelism organizations with an annual missions budget of $180,000 and has helped plant churches in NC, CT and CA.  The ministry continues to impact Fayetteville through the proclamation of the gospel from the pulpit and through our visitation program, a large AWANA program, Bible studies, bookstore, a preschool and the Academy.
---
On Sunday, January 17, 2016, the church broke ground on a 35,000 sq./ft. building containing education and recreation space for the Academy and Church.
---